Select the Aztec master 1 layer copy it and paste to a new document. We're almost there but we have to do one more thing first. Increase the Canvas Size to double the width of your current image - ensure the image is placed to the right and knock relative sizing off - you should get something like this...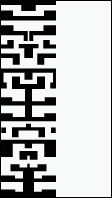 now select the Aztec pattern on it's own - copy and paste it back into a new layer - flip it horizontally and move it across to the other side of the canvas - like so...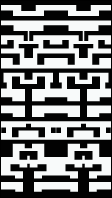 finally invert the duplicate layer like so: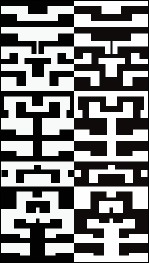 Now we have our basis for the Aztec pattern.
Now we have to duplicate this pattern a few times to prepare for the polar coordinates filter. So similarly to before - increase the canvas size to a suitable multiple of the current image width and ensure the original is placed on the left hand side. So for instance if you wanted say 12 of these patterns to form the final hull Aztec you would multiply your current image width by 12 for the new canvas size. The end result should look like this.

Now we simply copy and paste this pattern 11 times across this canvas till we get this result..

This now is the basis for the Aztec pattern for the polar filter which we then run...
Filters - distort - Polar coordinates
but before we do this we need to ensure the image we will run the filter on is "square"; as a rectangle the polar coordinates filter will merely return an elliptical result - which naturally can be handy for elliptical trek hulls! ;o)
so prepare the image by re-sampling it to a suitable square size like this...in this example mine was 5200*5200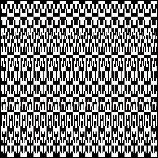 now I've found that the polar filter tends to dislike images greater than 4000 pixels in width - so re-sample to something like 3800 - retaining the proportions and then run the filter.- your result should look like this..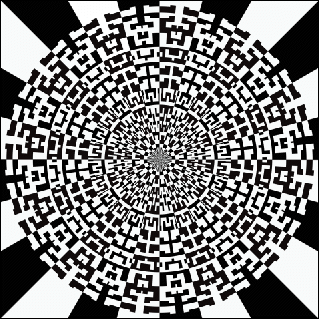 Now that the Aztec pattern is done you can re-sample it down to a more respectable size for the image map of say 2000x2000.